ABOUT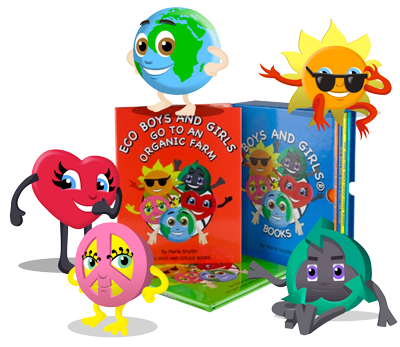 Maria Snyder's Eco Boys and Girls® (EBAG) is a children's animation media brand that engages youth and families around the world to be aware of, involved with and connected to each other and the earth, while empowering them to take ownership of our planet, learn about the world environment, as well as explore creative new ways to live in harmony.
EBAG was launched in 2010, as a museum exhibition at the esteemed Liberty Science Center, and has since partnered with or been cited by leading organizations in education, science and the environment, such as the Environmental Protection Agency, Association of Science and Technology Centers and the United Nations, amongst others.
The National Education Association has partnered and promoted EBAG's 6 volume book series, educational curriculum and characters; Ernie Earth®, Lulu Love®, Patsy Peace®, Ray Recycle® and Sammy Sun®, as young STEAM (Science, Technology, Engineering, Art & Math) leaders and future problem solvers for today's world issues. In the words of the NEA President, Dennis Van Roekel, "Eco Boys and Girls are inspiring today's youth to become future leaders in solving critical issues of our time."
In addition to the development of EBAG's media assets are several education programs being implemented around the world. The Association of Children's Museums (ACM) has partnered with EBAG on a program entitled Eco Boys and Girls Sustainable Development Goals, a program and curricula distributed through ACM's worldwide network of museums, contributing towards a more sustainable future for all. The EBAG SDG Book and materials are partnered with Sustainable Development Solutions Network Youth to bring the United Nations SDG'S to a wider audience, with a focus on young children, and will be offered as teaching materials at iTunes U Fall 2016.
Eco Boys and Girls Science Bites is a program in partnership with The Children's Museum of New Hampshire, educating children and families on various aspects of STEAM education, and offered to educational institutions worldwide. Eco Boys and Girls Storytimes, is a program in partnership with Search for Common Ground to bring a message of hope to young children in conflict countries, such as Lebanon, Syria, Congo, Nepal and Indonesia.
Through early literacy and quality entertainment, EBAG's programs empower young people, when they are most impressionable, to become advocates for science and the environment, while learning, having fun and engaging young mind's towards a greater love of innovation and problem solving.